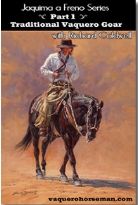 Part 1: Traditional Vaquero Gear $50

In this first part of the series, Richard takes you though all of the essential pieces of traditional Vaquero gear and shares his insights into quality, fit, and craftsmanship. Learn gear from each stage of the bridle horse process, from the hackamore, to the two rein, and finally the bridle. Richard discusses bosals and bosalitas, mecates, bridle bits, reins and romals, spurs, martingales, breast collars and saddles.




Part 2: Starting The Horse In The Jaquima $50

In this second part of the series, Richard will focus on instruction dealing specifically with the Jaquima. This particular DVD will deal with the beginning process and steps involved with introducing the horse to the Jaquima. Richard will discuss in detail the differences between different sizes and their unique means of communication between rider and horse. He will go over proper fitting and exercises he uses on a daily basis. Some of the methods that Richard covers are proper tying of the mecate, use of the get down rope, ground flexion exercises, lunging in the bosal, side passing, and rollbacks. He will show you how he gets control of the five specific body pars of the horse, and why that is so important.




Part 3: Riding in the Jaquima $50

In this third part of the series horse and rider advance into an intermediate hackamore state as Richard explains the purpose and demonstrates over 10 essential riding exercises each shown at a walk, trot, and lope. You will learn the importance of fencing a horse, dry working a cow, tracking, lead changes, transitioning, corrective movements plus valuable horsemanship insights.




Part 4: Riding in the Two Rein $50

Ride along with Richard while he clearly explains & demonstrates each aspect of the "two rein" stage, essential in building a bridle horse.
Riding in the "Two Rein" is part 4 of the Jaquima a Freno series. This is the last DVD Richard completed prior to his death.
TO ORDER
Call
Amee Caldwell
208-204-4149
or
email order to amee4c@yahoo.com